Since the 2000s, there has also been a trend among small and medium-sized companies to use all-electronic labeling systems. Manual stencil machines are rarely used. Enthusiasts, collectors, purists and fans are increasingly turning to these machines that have been around since the late 1890s. However, they still have great advantages for small companies. They are space saving, require no special safety equipment and are virtually maintenance free.


Manual stencil machines are still built in small numbers by Marsh and DiagraphMSP
Manual stencil machines are still built in small numbers by Marsh and DiagraphMSP, but are relatively expensive for home users. Old machines are often offered in unknown condition for very little money. There is a large second-hand market. If you are lucky, all your machine needs is a good clean and lots of oil, and it will run for another decade. However, certain letters or their dies and punches are often defective. It helps to look for spare parts on the second-hand market. But it's like gambling. New dies and punches are still available for Marsh and newer Diagraph machines.

Since 2002, the Ideal Stencil Machine & Tape Co., is no longer in existence. All remnants have been acquired by ITW. Diagraph was also acquired by ITW but some their products are sold as DiagraphMSP. Marsh still exists and can still supply spare parts. For Ideal machines, the early Bradley, Diagraph and Marsh machines before 1940, there is only an aftermarket.

We have a passion for stencil type, and collect stencil samples from old stencil machines. So if you have access to an old stencil machine and would like to have its typeface digitised, send us a sample and with a bit of luck you might get the right font later.

Historic badges, decals and props should use the correct fonts. The historical stencil fonts from astype fonts type foundry can be cut with modern digital cutting systems. Astype fonts have only a few, very precise Bezier points. This ensures optimal cutting results.

Have a look at the stencil font collection.
PDF Downloads >>>
Up-to-date manuals and parts lists for current Marsh and DiagraphMSP machines are available from the manufacturers and their resellers.

If you have other vintage stencil machine owners manuals and stuff that can help other users, we are happy to host them.
If you have access to old machines and make a type specimen, we will pay you for your efforts. We are looking for type specimens of the following machines:
Ideal No.0 / Big Ideal (2" or 1¾"")
Ideal No.2 (5/8")
Ideal Quarter (¼")
Ideal Cyrillic versions of No.1 and No.2
Bradley horizontal models wich Roman type
Bradley circular models with Roman or Gothic type
Bradley Gigant (1¼" and 1½")
Diagraph 1" (late models since 2000)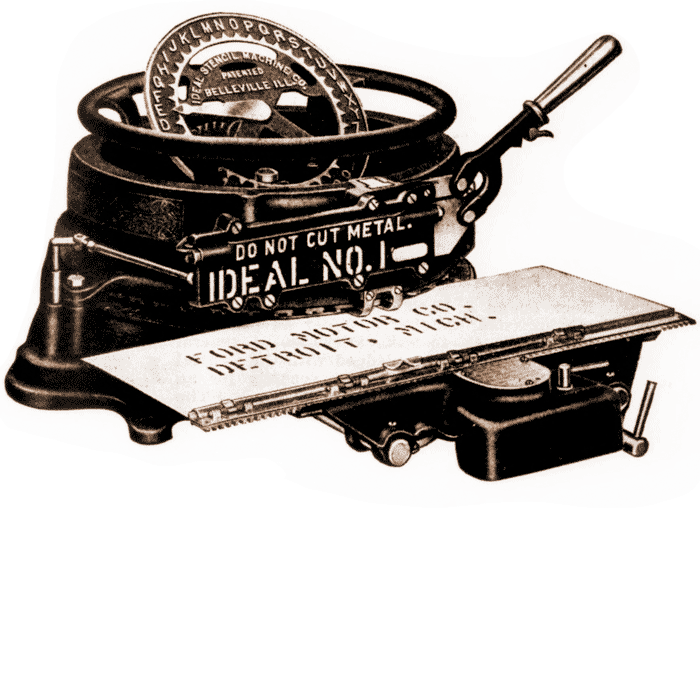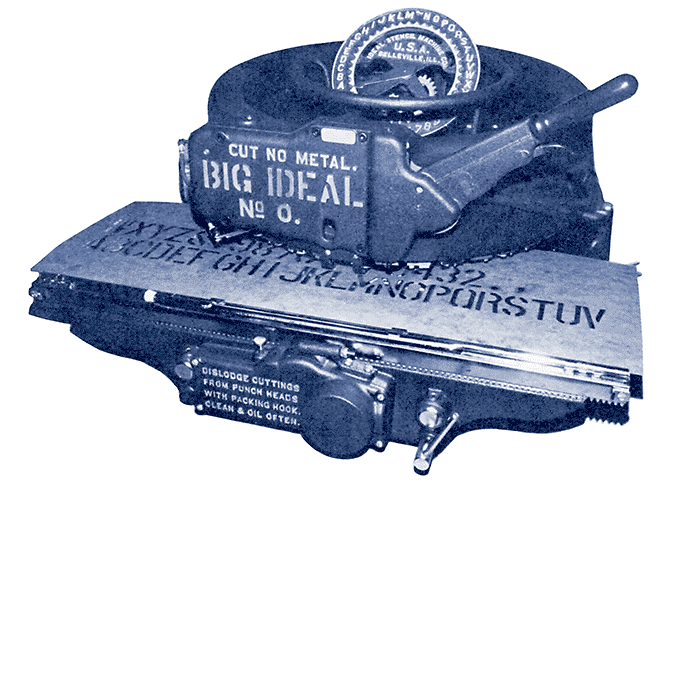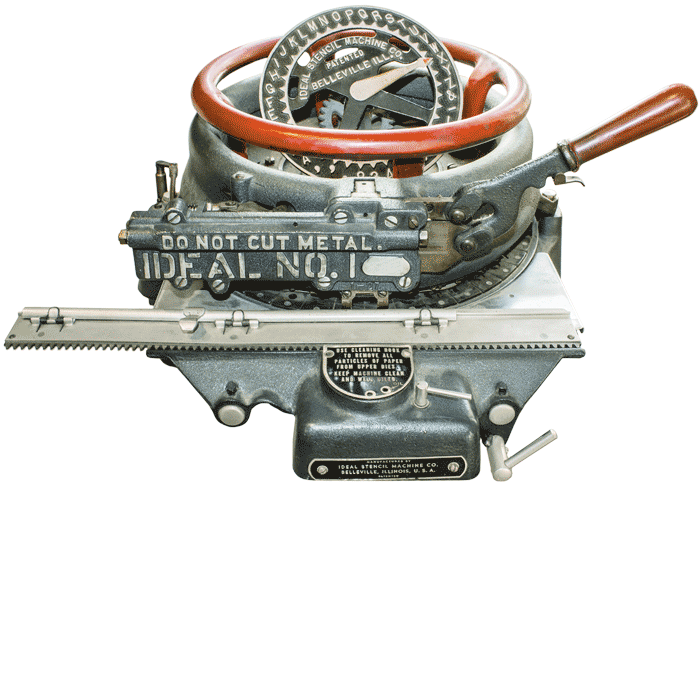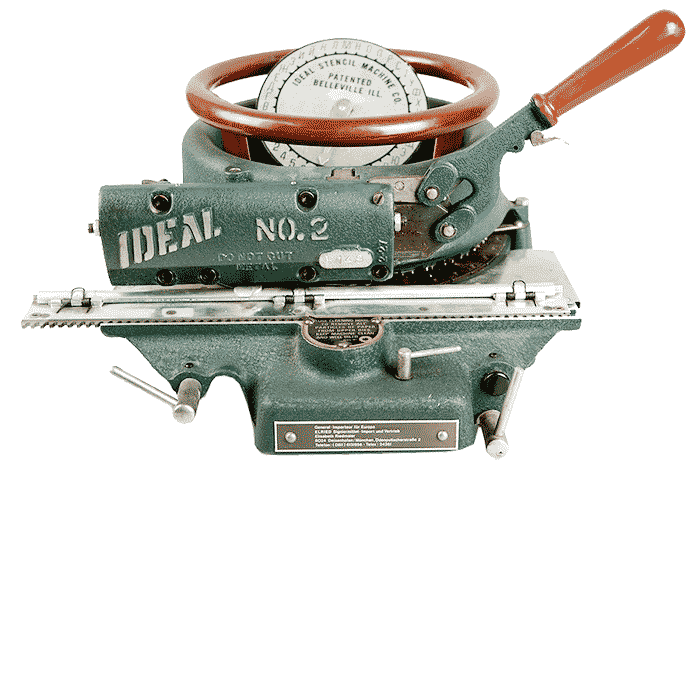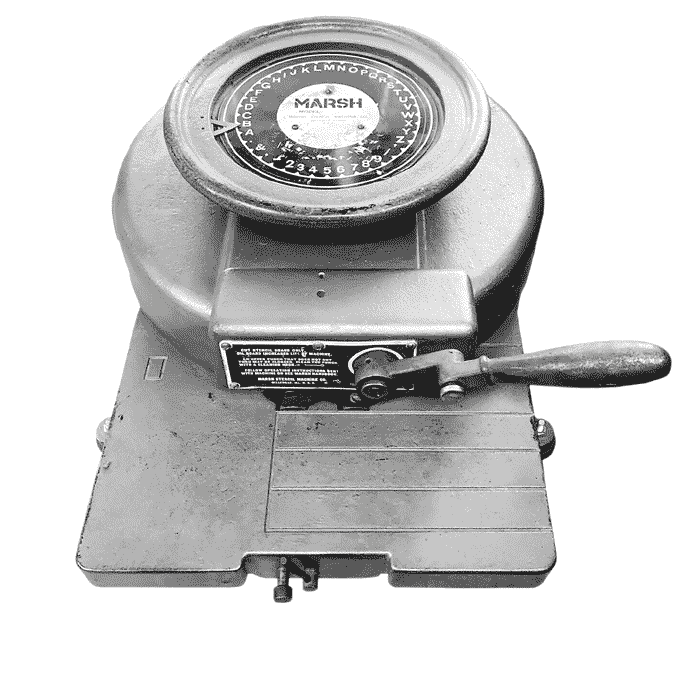 Historic Stencil Machine Companies
If you look for in deep informations about the history of stencil machines companies we recoment to have a look to our sister websites.

BradleyStencil.com for the Bradley Stencil Machine Company.

IdealStencil.com for the Ideal Stencil Machine Company.

For historic information about Diagraph-Bradley Industries Inc. and Marsh Stencil Machine Company visit astype.de.
All trademarks mentioned belong to their respective owners.